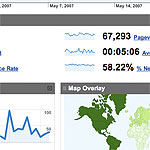 Google Analytics last week overhauled their UI to go from mediocrily bad to quite good. What do they have to say about AlteringTime.com? Here's an analysis of their analysis.
The Traffic
Asylum is still the most popular thing on the site.

Faith is now second place!

Not a whole lot of people use the main front page (4% of hits)

The Ballad of Bilbo Baggins and Stick Fight files that I host got well over 1,000 hits a month, making them each slightly more popular than WTF Sites and the Quotes.

About 30 people a month read my resume - wtf?

My call for an iPod SDK is the most popular blog post at more than 100 hits a month, after which is my last status post on Faith (wow, obviously I need to make another one), and then my post on Google Image Labeler.
What most people were looking for
7 of the top 10 search keywords are either for one of those reposted media files like Bilbo Baggins or stick fight. The top 10 searches for content I actually made are:
altering time - I bet this is just people using Firefox's "I'm Feeling Lucky" address bar feature..

ipod sdk - I'm one of the top authorities on this.

altering time blog - Sounds lame to me.

**political asylum **- When I was the top hit for this I'd sometimes get weird emails actually asking for political asylum and feel bad!

altering log - Less searches than "altering time blog"… should I rename this thing?

alteringtime.com - Seriously?

budgetable - Wow!

allen pike - Did you know that a different Allen Pike designed the Batmobile?

engineering faith - People want it.

wet floor signs - lol

free political game - Exactly what we offer.
What weird people were looking for
I couldn't look through all of the thousands of things people searched for to find AT, but here are some of the interesting ones I noticed.
facebook porn - wtf, why?

famous topics - We're the top hit!

create your own religion - a lot of people want to do this it seems!

second person story - how can I be the third site for this after Wikipedia and MIT?

cybersex logs - I doubt they'll get what they were looking for on AT…

allan pike - Holy crap, I'm the #2 hit for this! Thanks Google!

indecent exposure pics - They must have dug deep in the search results to find AT.

quotes about rocks - Google confused this with quotes that rock.

serious news articles - Google doesn't understand sarcasm.

swallow a frisbee - Do they want instructions, or..?

**singapore swinger ad posting **- I don't think we have these?

altering clothes - You're going to be disappointed man.

popped cherry - Really?

ninjas riding hippos - Classic.

boring things - Step right up and get your boring things!

**oldguy sex **- Augh!

allen pike is sexy - Very funny guys.