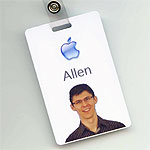 Today was my last day at Apple.
Working there has been the experience of a lifetime. The people, the products, and the coffee are all wonderful. I'm going to miss laughing at rumour sites, hiding prototypes, and not needing to explain where I work.
At Steve Jobs' commencent address at Stanford, he said:
You've got to find what you love. And that is as true for your work as it is for your lovers. Your work is going to fill a large part of your life, and the only way to be truly satisfied is to do what you believe is great work. And the only way to do great work is to love what you do. If you haven't found it yet, keep looking. Don't settle.
"Don't settle" sounds obvious, but it took me a long time to realize how working at a company like Apple could possibly be settling. It turns out that while I like programming, it's not my true love. The work I truly love is ensuring that a product is great. Sometimes that's programming, sometimes it's design, sometimes it's talking to customers. It seems then that I belong at a small company where a role like that exists.
A great thing about small companies is that you can build your own. And so, tomorrow is my first day at Steam Clock Software. We're going to take inspiration from great companies like Panic and 37signals, but with our own twist. We founded Steam Clock to make awesome software products and to be the best place to work in Vancouver. Getting there should be a fun ride.
Onward!