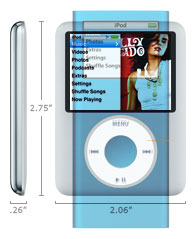 Apple changed almost its entire iPod line today. The new iPod nanos look pudgy, they're not actually very big. They're the same thickness as before, and they're only a bit wider. When I saw the mockups I panicked - it won't fit in my jeans' change pocket! I barely slept last night. But now I've done the comparison and a quick measurement, and I'm safe. The new nano will (albeit barely) fit in said change pocket.
So now those who want to watch video on the go can get iPod nanos! Except you'd have to be stupid to. If you wanted to watch video, you'd use the new iPhone Touch, which is just an iPhone without the phone, and has a big enough screen that you won't get a migraine. Except you'd have to be stupid to. If you wanted something like that, you'd realize you can now get the same-size iPhone for only $100 more. Wait, that's still $399 US. Screw that, I'm getting a shuffle.
Honestly, an iPod that can use wifi and watch videos and stuff is spiffy, but mostly useless for those of us who usually have a wireless laptop on them, and it just can't stand up to the iPhone and having truly mobile access - plus not having to carry a phone around. I guess the iPod touch is for people who've been sucked into a contract with a CDMA mobile provider, or those four guys who are still buying Treos. Keep the dream alive guys!