Updated through October 19.
Saturday is the final day to vote. If you're short on time, I've posted three example Council ballots. Polls are open until 8pm.
Canadian politics is, typically, boring. And we like it that way. We've seen what can happen when politics get too interesting. And well, America, you can keep it. Sorry.
From time to time though, politics in Canada does get interesting. On occasion, the issues get serious enough or an election gets weird enough that we find ourselves in a high-stakes voting scenario. If you don't believe me, ask Ontario.
As it happens, this Wednesday, October 10, advance voting begins for the Vancouver city election – and our city is in the middle of the most interesting election campaign in years.
"Wait, what? A city election is interesting? Surely you joke!"
Well this is no joking matter. Okay, well some of the candidates are jokes, but let's not get ahead of ourselves. This year, new electoral rules and a nearly clean-slate Council have hit the reset button. We have a host of new parties, and new approaches for old parties. There are Mayoral candidates with no parties, parties with no Mayoral candidates, and more credible Council candidates than you can fit in an empty condo.
Before we get to the candidates though, let's briefly review the current housing shitstorm we find ourselves in. (Or, alternatively, skip ahead if you're raring to get your vote on.)
The Housing Crisis, Briefly
Land, land everywhere, and not a drop to drink.
The severity of Vancouver's housing affordability crisis depends on who you ask. SFU's Andy Yan says it's the worst in North America, Demographia says it's the 3rd worst in the world, and The Economist claims prices are overvalued by 65% – compared to New York City's 4%.
Okay, maybe it doesn't depend who you ask. Things are fucked, yo.
Buying a typical detached house in Vancouver currently costs about $2.4 million, almost all of which is land cost. This is in a city with a median income of only $65k.
Of course, people don't need houses, they need homes. Unfortunately, with the city's condo prices exceeding $1000 per square foot, a typical two-bedroom unit now costs roughly $1 million. For a condo.
Of course people don't need to own homes, they just need to live in them. Unfortunately, with incredibly low vacancy rates of under 1%, average rents have risen to as high as $3200 a month for two bedrooms. Existing renters in many cases are stuck in housing that is insufficient but rent-controlled. Too often, needing to move apartments now means needing to leave the city.
As such, 67% of Vancouver residents agree housing is the most important issue facing the city. Housing advocacy groups have formed, with Abundant Housing Vancouver arguing we need more homes, and Housing Action for Local Taxpayers arguing the actual problem is foreign buyers and speculators. After years of resignation to the idea that housing prices always go up (they don't), things have finally gotten so extreme that there is a rare consensus in the city: something must be done.
The Four Kinds of Parties
As for what should be done, there is a little less consensus. Most parties are on board with speeding up permitting, renewing existing co-op leases, supporting temporary modular housing, taxing empty homes, and using at least some city-owned land to build more rentals.
Beyond that though, parties and voters are divided on what steps to take. To help orient us, I've created a not entirely scientific but rather helpful chart based on data from the Cambie Report.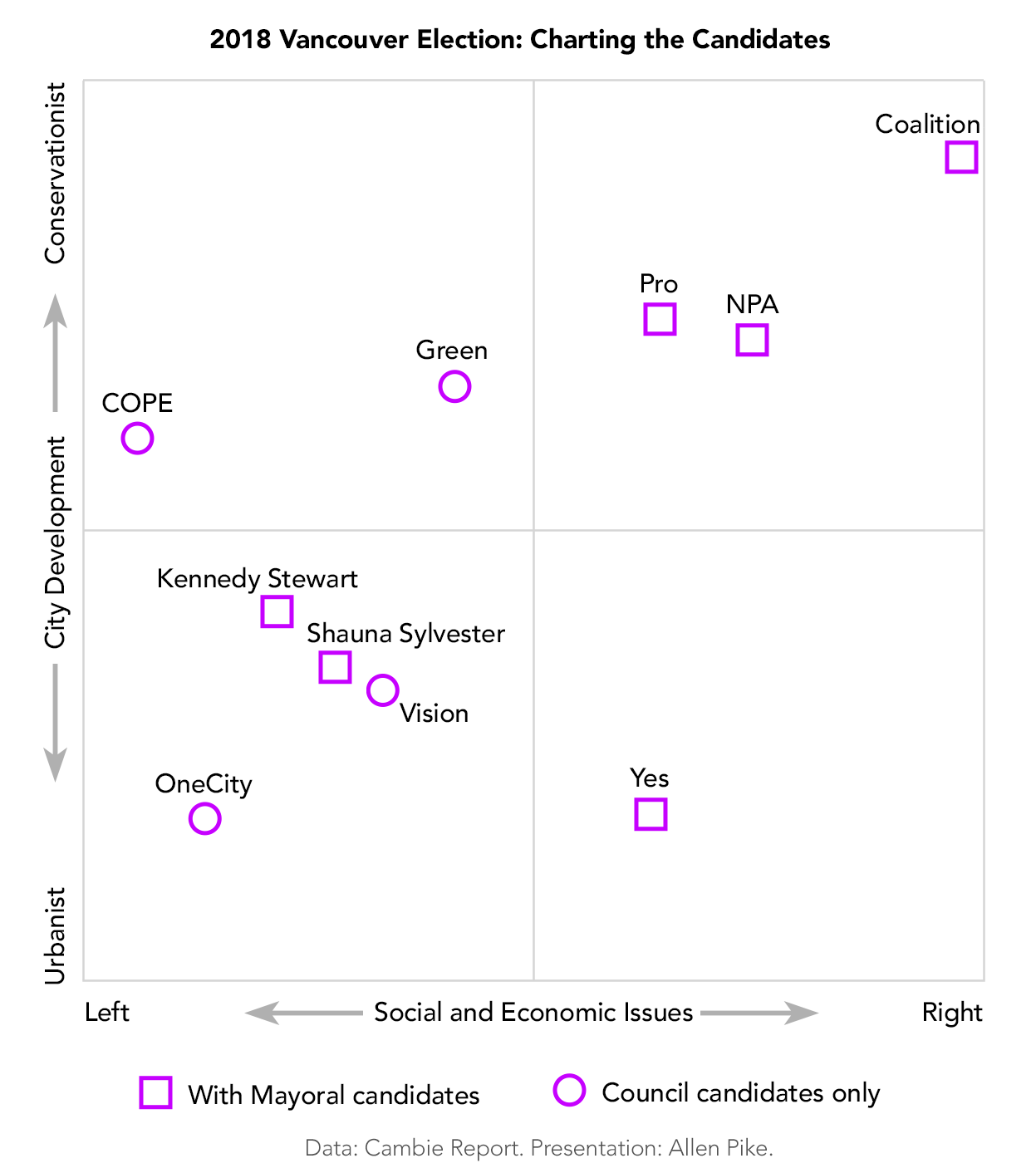 Urbanists generally advocate for a denser, less car-oriented city. With 77% of the city's residential land currently restricted to unattainable detached houses, Urbanists advocate allowing triplexes, townhomes, and low-rise apartments in more of the city. The idea is that less exclusive zoning will increase the supply of homes, decreasing the unjustified prices that condos and apartments currently demand today. Voters enthusiastic about the idea of a more walkable Vancouver with an increased supply of housing are likely looking at urbanist parties like OneCity, Yes, Vision, and some of the great Independent candidates.
Conservationists on the other hand are less concerned about building homes, and more worried about too much change in their backyards. Conservationists prefer a cautious approach to development, preserving the existing character of their neighbourhoods, and leveraging community consultation to protect the housing they already have – even if their critics call them NIMBYs. An anti-development stance is most popular among those that are already well housed, especially older residents and west side landowners. Conservationist voters are likely to be looking at the NPA, the Greens, COPE, and perhaps some of the fringe parties like ProVancouver.
Beyond planning and transportation issues, parties and voters also differ on the traditional left-right scale of social and economic issues, which has its own effect on parties' approach to housing.
Left wing parties, for the most part, are arguing for more renter protections, including lobbying the province for tougher restrictions around tenancy and rent increases. At the city level, the left favours preventing existing rental stock from being redeveloped, and taxing the most expensive houses to fund more social housing. Funding housing for the less fortunate has gained more appeal in recent years, as high rents rates make renters feel less and less fortunate. Housing aside, the average Vancouverite is a center-left voter, looking favourably on ideas like stopping pipelines and providing addiction services. Parties on the left include COPE, OneCity, some Independents, and to some degree Vision and the Greens.
Right wing voters are in the minority in Vancouver, but this year there are a herd of candidates on the right and center-right. Fiscally and socially conservative platforms here are about not changing too much – other than perhaps keeping our property taxes famously low, or maybe "cleaning up our streets". While a conservative mindset often correlates with a skepticism of new housing, this year we also have Yes, a centre-right party that is primarily focused on aggressively permitting new housing – if not funding it via taxpayer dollars. Other right-leaning options include the NPA and the various new fringe parties such as Coalition.
Let's Meet the Contestants!
Like, actually who should I vote for?
Vancouver's Council setup means that each Councillor matters, almost as much as the Mayor. Given that, this summer I set out to try and answer one question: "Given that I care a lot about housing affordability, who should I vote for?" I thought a couple hours of research would give me a good idea. And holy shit was I double plus wrong. This research turned into a rabbit hole the size of a Winnebago. There are more options and far fewer resources than we get for federal or provincial elections.
Overall, I sought out candidates who:
Would actually take serious and broad action on housing affordability.
Have chance of winning – both in terms of polls, and in terms of endorsements and buzz.
So I did what anyone would do: read the parties' platforms, subscribed to multiple podcasts on the matter, listened to various candidate interviews, attended a candidates' housing debate, and even personally met some of the candidates. The bad news is that my brain is now full. The good news is that you don't need to do all that.
Get a drink, lean back, and optionally open the city's Plan Your Vote tool open in another tab. Your mission is to pick one Mayoral candidate and up to 10 Council candidates. Let's do this.
OneCity
In the urbanist left corner of the ring, we have OneCity. Young scrappy and hungry, OneCity won their first seat on School Board last year, and is back for more. They have an audacious plan to both permit and fund new housing across Vancouver, paired with lefty stances on the various other issues facing the city. If you think we need new housing and tend to vote on the left side of the fence, you'll probably like OneCity.
OneCity has two Council candidates this year. The first is Christine Boyle, a community organizer, climate activist, and minister for the United Church (you know, the cool church that welcomes everybody regardless of orientation or religious background). The second is Brandon Yan, a non-profit director and LBGTQ2+ advocate that served on the City Planning Commission. Credible candidates: check.
Despite OneCity's unabashedly progressive message, the party seems to be well liked and endorsed. They've also had a late surge in the polls, giving them a shot at shaking things up.
Like the other parties on the left, they're not running a mayoral candidate of their own – OneCity and progressive independent Mayoral front-runner Kennedy Stewart have endorsed one another.
Independents
This election has been called the year of the independent in Vancouver. Not because there are a bajillion of them running – which there are – but because there are some really strong candidates, especially on the Mayoral side.
The favourite for Mayor this year is Independent candidate Kennedy Stewart. Stewart was until recently a Member of Parliament for the NDP, so he has the standard-issue union support and progressive politics. While many candidates are making promises that can only be fulfilled by higher levels of government, Kennedy has actually worked in a higher level of government – albeit not run one.
Although his early campaign was mostly about opposing pipelines, more recently he's adopted many ambitious housing goals from the urbanist left, with bold targets for new rental and market housing. While his campaign hasn't exactly been exciting, his positions and poll numbers have earned him official or unofficial support from the main parties and organizations on the left.
The other credible mayoral candidate on the left is also Independent: SFU director and former Vancity and MEC board member Shauna Sylvester. Although her policies are arguably more thoughtful than Stewart's and she seems like she'd be excellent, polling led to endorsements going Stewart's way in an effort to avoid splitting the vote – and giving the crown to the NPA's Ken Sim.
Based on the Oct 9 poll numbers though, you should feel safe voting for Shauna if you prefer her take on things. Her platform includes includes a focus on co-ops and other non-profit housing models, as well as positioning herself as good unifier of what could be a very random city Council.
For Council we also have some very strong independents. Sarah Blyth, for example, is very qualified and has a serious shot. She's co-founder of the Overdose Prevention Society, and served two terms on Park Board. She's an advocate for affordable housing, on a platform that sounds somewhere between COPE's and Vision's, focusing on existing renters.
Adrian Crook is another Council candidate with a serious shot, and has real housing bona fides as co-founder of housing advocacy group Abundant Housing Vancouver. If you're sold on the idea that Vancouver needs more housing of all kinds, then you want Adrian on Council. He's the author of 5 Kids 1 Condo, a relatively popular blog about trying to raise a family in Vancouver and his advocacy for more housing of all kinds. If you want more than one independent pro-housing candidate, you might want to look at Graham Cook – also an Abundant Housing supporter – or from the more right-wing side of things, Rob McDowell is popular in pro-housing circles and has endorsements from 3 sitting Councillors.
Okay, back to the parties! 🎉
Yes
Where OneCity is the "all the housing" party on the left, Yes is the "all the housing" party on the right. How right-wing are Yes' non-housing policies, you ask? Nobody knows – all they talk about is housing. Admittedly, all Vancouverites ever do is talk about is housing, so it's on brand.
Yes' founder and Mayoral candidate, Hector Bremner, is a sitting Councillor and really knows the housing file. His polished videos and talking points have attracted some fans, who like his a market-oriented plan for mass rezoning new housing supply. Yes has the most in-depth housing plan of any party – it's 50 pages long and literally has flow charts in it. Flow charts!
Yes has also attracted its share of haters. In addition to concerns about excluding social issues from their platform, even some urbanists are uncomfortable with the idea of a pro-development Mayor who worked in PR for real estate developers and has received $85k in grey-market advertising from a billionaire real estate developer.
Given the latest polling, Bremner doesn't seem to be within reach of Mayor's seat – which could mean his Council candidates have a better chance of getting elected than their leader. Local business owner Stephanie Ostler seems to be their strongest Council candidate, and is apparently well liked. They have 4 lower profile candidates running as well, so if market-oriented urbanism is your thing, party-vote it up. Also, if you like the Yes platform, independent Council candidate Adrian Crook has a similar take.
Vision
Having held a majority on Council for 8 years, Gregor Robertson's centre-left Vision party originally focused more on bike lanes and green initiatives than on building more housing. Last year they finally got the message, and started aggressively pushing for new affordable homes.
Even with a solid plan and substanial endorsements, Vision may suffer at the ballot box. Many renters are angry they acted too slowly, and many owners are worried Vision will now act too boldly.
Undeterred, Vision has been pursuing new rental projects, social housing, and gentle density in Neighbourhoods Formerly Known as Single-Family. Despite opposition from some of Vancouver's wealthiest communities, they've been rolling out a program called Making Room that would allow more types of low-rise housing across the city. Many renters see it as an overdue step in the right direction, while landowners flooded City Council to rail against what they deemed a "chainsaw massacre" and a "give-away" to real estate developers. Heavy is the head that wears the crown.
Given all this, Vision is playing it smart by keeping to 4 (originally 5) Council candidates this year. An outstanding candidate on their slate is longtime cycling advocate Tanya Paz – everybody who meets her seems to hold her in high regard. Paz is joined on Vision's slate by young housing advocate Diego Cardona, sitting Councillor Heather Deal, and Parks Board member Catherine Evans. Vision has revoked their endorsement of TV host Wei Quiao Zhang.
Vision is no longer running a Mayoral candidate, but has informally given the thumbs up to independents Kennedy Stewart and Shauna Sylvester.
COPE
While COPE was once the unified left in Vancouver politics, they've struggled in modern times. That may all change this year due to the work of poverty advocate and altogether fascinating person Jean Swanson. Whether she's going to jail for protesting pipelines or offering tissues to millionaires crying about higher land taxes, Jean is fun to watch – whether or not you agree with her. She'll likely be COPE's first elected Councillor in years.
COPE's housing platform is pretty traditionally leftist – it prioritizes protecting existing renters, taxing mansions, and ending homelessness. COPE in general and Jean in particular are skeptical of allowing new condos or other for-profit housing, preferring homes to be built for the poorest folks first. While this is a noble sentiment, voters hoping to upgrade from okay housing to pretty good housing may not be excited to wait their turn.
In addition to Swanson, COPE has two other Council candidates: activist Derrick O'Keefe, who seems to be a bit more of an urbanist than Jean is, and former Councillor Anne Roberts, who during her tenure was known for campaigning against the Canada Line – in favour of more buses.
Green
Ah, the Greens. At the national, provincial, and city level the Green Party has become a kind of protest vote. The "left but not those guys" vote. As such, they've surged in the polls this year.
Interestingly though, when you dig into the Greens' policies and record, they're more conservative than people think. While folks seem to vote Green for change, at the city level they're a party of the middle ground.
The Vancouver Greens have one sitting Councillor, Adriane Carr, who is extremely likely to be re-elected by virtue of name recognition. This is despite the fact she has voted against far more housing than any sitting Councillor – including social and rental housing. Her reasons for voting against housing may vary – sometimes it's concerns about landowners' views, or often it's longtime favourites "insufficient consultation" or "this won't fix the crisis". As a whole, her record is pretty plain: she votes to conserve what we've got.
Despite Carr's record, the Greens' Pete Fry and Michael Wiebe are interesting candidates. They both seem more urbanist than Carr, and if elected with her could push her towards supporting more housing. Green also has an additional Council candidate, David Wong, who given interest in the party could also do well. If you think Council needs more centrist voices, or you're a "don't rock the boat" type voter, the Greens could be a good fit.
NPA
The NPA is the longstanding right-wing party in Vancouver. Their big idea on housing is to allow detached houses to have two basement suites. So if you're itching to live in a basement suite, they've got you covered.
With a platform surprisingly close to the Greens', the NPA has just enough progressive policies to be electable in Vancouver. For the most part though, they're the party of the status quo – especially now that their more pro-housing members have splintered off into the new Yes party.
Their Mayoral Candidate, Ken Sim, is a business guy, owner of Rosemary Rocksalt bagelry and Nurse Next Door. In most polls Sim has ranked 2nd place for mayor, giving him a real shot at winning – if the renters and young people stay home on voting days.
The long tail, wild and weird
Without getting deep into the new conservative fringe parties, it's worth knowing they exist. None are on track for the Mayoralty, but they could nab a Council, School, or Park Board seat.
The most infamous is a strikingly conservative party called Coalition. They're the one party not focused on housing, due to their burning desire to tear out bike lanes and "clean up" "vagrancy". I suppose every wedding needs a drunk uncle.
There is also Vancouver 1st, who according to the polls is in the race for last place. They've garnered media attention for a promise to somehow bring back the Vancouver Grizzlies, and more recently for joining some Coalition candidiates in criticizing SOGI, BC schools' sexual orientation and gender identity policies. ಠ_ಠ
Then there's ProVancouver. In the initial version of this guide, I had a hard time making sense of the party, so I dismissed them as anti-housing and not having a chance. This led to one of their Council candidates warning followers to be extremely wary of this misleading guide, followed by an angry pile-on by pro-Pro social media accounts. On Oct 11, new Council polling showed surprising gains for Pro and Coalition, which obliged me to say a bit more about them. They sought attention, and I guess they got some.
While their housing take is a cromulent anti-developer, pro-rental platform, their organization and the behaviour of their candidates make some voters feel very uncomfortable, in a way that goes beyond platform disagreements. I really wish I had a simple argument for why this is the case.
It may be their skepticism of newcomers, defense of parking and detached houses, lack of socially progressive messaging, supporters' alt-right style social media behaviour, a sense that they're populists, or maybe I'm just secretly salty that their proponents think I'm illegally on the payroll of the real estate industrial complex. In any case, if you find their pro-rental rhetoric appealing, you may want to instead consider Green, COPE, OneCity, or Independent candidates.
If you want to hate-read, or get a sense of why young people and renters need to actually vote, I'd say reading about Coalition would be your go-to. But before getting sucked into that vortex, make a specific plan for your own vote.
Actually voting
Stereotypically, only retired homeowners vote in local elections. This year, you will too. (If you're a retired homeowner, hey hi! I get where you're coming from but I really hope you'll also support more affordable housing this election.)
The city has a helpful Plan Your Vote tool for that lets you check off who you're planning to vote for, and see them in a concise list in the order they'll appear on the ballot. It's quite useful, given the ballot is long and randomly ordered.
Early voting runs Wednesday, Oct 10 to Wednesday, Oct 17, and any voter can vote at any polling place. If you really need to, you can wait until mass polling happens on Saturday, Oct 20 – but all the cool kids vote early.
---
This guide was a large undertaking and covered a lot of ground. If you have feedback or (especially) corrections, get in touch!
If you have the time and brain capacity to learn more from other sources, here are some great starting places:
For new readers curious where I'm coming from: I'm a thirty-something with a family, currently renting a condo in Mount Pleasant. I run a small business, and like many in my generation have become an advocate for affordable housing – for my family, my employees, and my friends who can barely afford to stay in a city with acres and acres of single family houses.
Special thanks to the Cambie Report hosts and supporters, both for the excellent and informative show, and tolerating my many questions about Vancouver politics. Also thanks to the many folks who are helping get more voters engaged in democracy.